Josephine (White) Griffing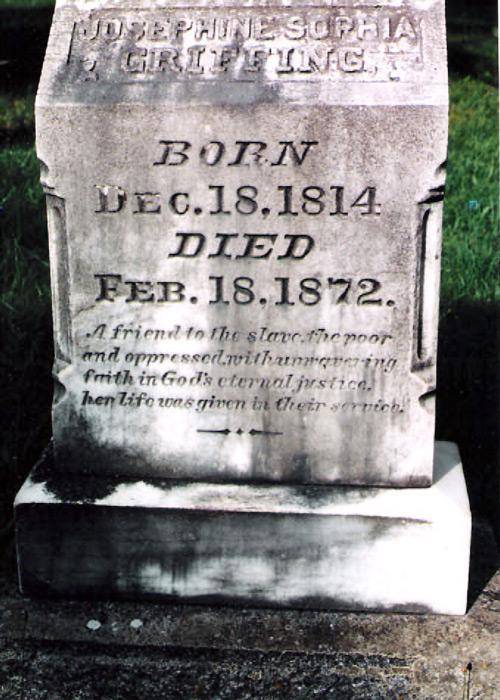 Josephine Griffing's Gravestone in HebronBorn in Hebron in 1814, Josephine (White) Griffing was educated at Burrows Hill School and Bacon Academy. She married Charles Griffing in 1835, and then left Hebron in 1842 for Litchfield, Ohio.
Josephine soon became a sought-after speaker for Abolition as well as Women's Rights. Her lectures and writing brought her to national prominence.
In Washington, D.C. after the Civil War, she helped found the Freedmen's Bureau, an organization to help newly-freed slaves acquire the skills they would need to survive in the post-war economy. She received backing from President Lincoln and Secretary of War Stanton in a bid to become first commissioner of the Freedmen's Bureau. Ironically, however, the job was given to a man.
She worked tirelessly over the remainder of her life and helped find northern homes for more than 7,500 freed people. She also helped establish two industrial schools to help train destitute and unskilled women in a trade. Upon her death in 1872, her body was returned to Hebron's Burrows Hill Cemetery. She was perhaps the bravest crusader ever to be born in our community.
Articles & Exhibits
Primary Documents: Abolitionism
Primary Document: Suffrage