Holiday Gingerbread House Contest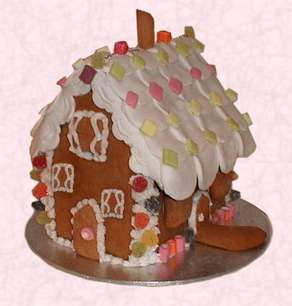 Holiday Gingerbread House Contest Sponsored by Historical Society
The Hebron Historical Society encourages your early planning for the 2016 Gingerbread House Contest. The competitive event will be held at Old Town Hall on December 3rd, the day of the Hebron Artisan Craft Fair. All ages are urged to participate.
The houses must be brought to Old Town Hall on Friday, December 2nd. They must be on a sturdy base and covered with a transparent material. Use an icing that will harden and then decorate your house however you wish. Houses will be judged for technique and creativity, and will be divided into groups according to the age of the entrant (under 18, and 18 + up) and whether the house was made from scratch or a kit. Awards will be given for first and second place in each category. Questions may be directed to Mary-Ellen @ This email address is being protected from spambots. You need JavaScript enabled to view it.
Gingerbread houses will become the property of the Hebron Historical Society and will be sold by Silent Auction at the Town of Hebron's Artisan Crafts Show that will be held at the Douglas Library and Old Town Hall. The proceeds from the houses will go into The Society's Capital Campaign fund to replace the roof on Old Town Hall.
In addition to the Gingerbread House contest, the Historical Society will be hosting Mr. and Mrs. Claus at their workshop, and will also be selling other items appropriate for gift-giving during the season. Old Town Hall will be decorated and welcoming to all ages.