Hebron Historical Society is Ramping up for Maple Fest 2017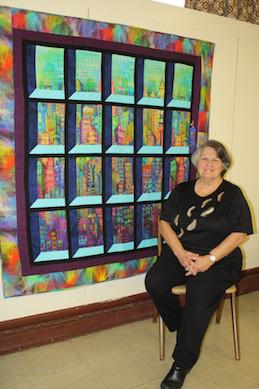 Jeanne Boulay, the 2016 Viewer's Choice Quilt Award WinnerThe Hebron Historical Society hopes to find you in the center of Hebron at Maple Fest 2017 the weekend of March 18-19. The Old Town Hall will be filled with quilts, gift baskets, and Hebron t-shirts and mugs. There will be something for everyone.
The 28th Annual Quilt Show is being organized by HHS board members Mary-Ellen Gonci, Paula Billard. and Evelyn Griswold Local quilters and quilt aficionados have graciously loaned quilts, both new and old, and yours could be among them. Contact Mary-Ellen at This email address is being protected from spambots. You need JavaScript enabled to view it. for more details. For those who are admirers of the skill required to construct a quilt; who love the contrast of colors, the varied types of material, and the fascinating shapes found in quilts, this Quilt Show is for you.
The hearty Hebron Historical Society members will be outside selling their once-a-year Secret Recipe Maple Milk, either pleasingly warm or icy cold. Some 2-legged cows will be wandering around Hebron Green directing you to the Old Town Hall where you can refresh yourself and families with the Maple Milk and tasty Maple Baked Beans.