St. Peter's Cemetery Event Photos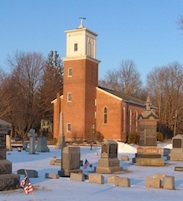 St. Peter's Church & Cemetery, Hebron
Historic Attraction added to St. Peter's Pumpkin Fest
Prominent citizens from old Hebron, now buried in St. Peter's Cemetery, were portrayed by members and friends of the Hebron Historical Cemetery. Cemetery tours began in St. Peter's Church where the well-known Jim Mirakian played the old organ, and a brief history of the church was shared.
Cemetery visitors were then guided to the graves of some old Hebron residents where they will be met by the portrayers. Research has been done on Hebron citizens who lived in the 18th, 19th and 20th centuries. Period clothing was worn. Visitors left feeling that they had met the individuals themselves. A selection of historic residents included Governor John S. Peters, his uncle, the Rev. Samuel Peters, Dr. Cyrus H. Pendleton and his daughter, Susie. Other people featured were Marjorie Martin (WW I & II librarian), Jim Batson (lost in Vietnam), Carrie Kellogg and her grandmother, Arethusa Gillett Arnold. Also met were Town Clerk Della Porter Hills, Charles Bissell (lost his arm in Civil War), and Lewis Worthington Phelps (relative of Hebron's first settler). These people all "made a difference" in Hebron.
Cemetery tours were held Saturday and Sunday, October 1st and 2nd from 2-4:00 both days. This event coincided with the St. Peter's Pumpkin Fest which included many other wonderful free, family oriented events and activities.