Hebron has an extremely rich history. In addition to some of the more well-known people and events in Hebron, there are also interesting tidbits that help weave a big-picture image of the community we all love and respect.
Based on period newspaper articles, memories, public documents, and legends passed down from generation to generation, did you know…
Hebron's Bicentennial Celebration in 1908 was almost single-handedly planned and executed by one woman, Ida Porter Douglas? A long lost letter recently discovered in the library's vault, written years after-the-fact by her husband, Dr. Charles Douglas, lamented that Ida had never "received the recognition she deserved for all her efforts" for not only for the Library but also for the Bicentennial. He subsequently requested that the Hebron Library be re-named the "Douglas Library", not for himself, but in honor of his beloved wife.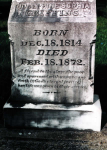 Josephine Sophia White Griffing, the daughter of Joseph and Sophia Waldo White, founded the Freeman's Bureau in Ohio? The Whites were one of Hebron's original families, and one can only speculate that Josephine's thinking was heavily influenced by Hebron's legendary tale of the rescue of Cesar and Lowis Peters, who were almost sold into slavery in 1787. Josephine served as a consultant to Abraham Lincoln; her job was to recommend ways to incorporate newly-freed slaves into American society following Lincoln's Emancipation Proclamation. She was eulogized at her funeral by William Lloyd Garrison, and is today buried in the Burrows Hill cemetery.
F. Clarence Bissell left a detailed scrapbook to the Town of Hebron, documenting the Blizzard of 1888? According to Bissell, during the storm some travelers at the Turnerville Depot walked to Turner's General Store, "floundering through snow up to their armpits." Bissell kept all kinds of historical record.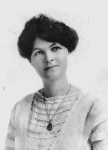 Susan Bingham Pendleton, another famous Hebron historian and a newspaper writer for 40 years, once wrote, "We people of Hebron probably owe more to Mr. Bissell for gathering and preserving Hebron history than to any other person."
Hebron is the "richest" town in Connecticut when it comes to surviving one-room schoolhouses? The town once boasted eleven such schoolhouses, and nine are still standing. Five of those nine were converted to private dwellings in the 1940's, three are publicly accessible (the Gull, the Burrows and the Center Schools), and one, while privately owned, may be undergoing renovations in the near future. Two schoolhouses, the Hope Valley and Summer/Brown Schools either burned down or fell into ruin. One-room schoolhouses were routinely sold off to private individuals throughout the state in the 1940's. Interestingly, Beacon Falls bid $500,000 to buy back one of its schoolhouses just a couple of years ago.
Alice Elizabeth Hills Foote holds the record for being Connecticut's longest living citizen? Alice died in 1980 at the age of 112; starting with her 100th birthday, and with each passing year, the annual event was marked in all of the major newspapers. Even today, some longtime residents clearly remember Alice's wonderful doughnuts and hand-woven rugs.
The Reverend Benjamin Trumbull was born in the Gilead section of Hebron on December 19, 1735? His Complete History of Connecticut, written in 1797, is still considered one of the most valuable resources for studying not only early Connecticut history, but also the Puritanical views and influences of the time.
The very first Hebron Town Clerk was Timothy Phelps? It was his wife, Martha Crow Phelps, who was the heroine behind the Prophet's Rock legend. She led a group of women who, searching for their husbands in 1704, yelled out from the rock, located off Burrows Hill Road. The echoes of their cries were heard by the men, resulting in a reunion of the families, and they decided that Hebron was a good place to settle. The Hebrew name "Hebron" has been translated as "city of refuge." The town was incorporated just four years later, in 1708.
Captain Samuel Morey, born in Hebron on October 23, 1762, claimed that it was he, and not Robert Fuller, who invented the steamboat and gasoline engine? It's an intriguing claim, as Morey did hold a patent, dated 1793, for a steam-operated spit, and that same year, he took a number of people on a steamboat ride up the Connecticut River.
Lorenzo Dow and his wife, Peggy, lived in Hebron from 1817 to 1820? Dow was nationally known as an evangelist, and settled in Hebron for a short time because of his close relationship with Daniel Burrows. He was also close to Alfred Hutchinson in the Gilead section of town. Susan Pendleton once wrote, "Dow did for Methodism what no other man could have done…" Despite his penchant, Hebron's Old Town Hall, built as a Methodist Church, was quickly abandoned; the Congregationalists in the center of town far outnumbered the Methodists. Poor Peggy….while Lorenzo was frequently seen driving his wagon through the center of town, Peggy always walked behind "to show her humility."
Claude W. Jones was appointed by Connecticut Governor Robert Hurley as Commissioner of Domestic Animals in 1941? Claude, who entered politics when he was only 23 years old, became a symbol of Hebron's agricultural roots, and was often seen with his famous oxen team, Tom and Jerry, plowing fields.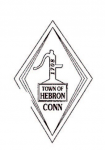 The Town of Hebron's official logo is wrong? The logo shows a pump, as in a water pump. But the pump that gave Hebron its nickname as "Pumptown" was actually a log, hollowed out, filled with combustible materials, and fired like a canon. The pump goes back to French and Indian War days, and Hebron's celebration of victory of a British victory.
Two Hebron families sent four of their sons to fight in World War II? The Porter Brothers, Howard, Lenny, David and Earl, sons of Alma and Clarence Porter of Hebron, all served in different branches of the armed forces. The Johnston Brothers, Robert, William, Charles and John, sons of Mr. and Mrs. John Johnston of Amston, also served in different branches.
Gay City was once one of the most prosperous business communities in the entire state? Bordering Gilead, it was an important mill city with its own Main Street, beautiful homes, and "a thrifty and independent colony of people." There were a variety of mills: saw, paper, grist and satinette. But fires burned all the mills down; the Civil War also had devastating effects. With the population dwindling to less than 10 people, the 2,000 acres was bequeathed to the State of Connecticut by Emma P. Gay Foster, "and when [World War II] is over, it may be an outdoor museum…or a spot to take the family picnicking when there will be plenty of gasoline to make it," wrote Susan Pendleton.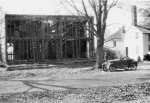 The old Charles Post House and General Store/Post Office/Stagecoach Inn, which dominated the center of Hebron for almost two centuries, was dismantled and moved to the estate of Starling Childs in Norfolk in the 1930's? Today, residents see the Veteran's Memorial where the Post store once stood, adjacent to the Caroline Kellogg house.
Despite their immediate response and best effort at fighting a fire at Morris Goldstein's farm on November 27, 1931, the Hilding Brothers – Albert, Sam, and Edward – were unable to save the six cows and five tons of hay that were destroyed? That news was important enough to make the Hartford Times. It may also have been the "last straw" in a town that had seen most of its mills and many of its homes burned down; the official formation of Hebron's Volunteer Fire Department occurred only a few years later.There are so many more fun facts and interesting tidbits in Hebron's history. The above vignettes are each deserving of an exhaustive senior paper or thesis, and such studies ultimately preserve these events for future generations of Hebronians.
History of Winthrop Porter by Beatrice Porter 1938: In 1938, while in school, Winthrop and Ethel Porter's daughter, Beatrice, wrote a history of her father. She later married Ernest Anderson, who developed Blackledge Country Club, which today is owned and operated by their son, Bill. The Porter family generously loaned this document to the Hebron Historical Society.
History of Winthrop Porter by Mary Elizabeth Cummings 1939: In 1939, Winthrop Porter's sister, Mary Elizabeth, wrote a history of her brother in a touching essay. The Porter family generously loaned this document to the Hebron Historical Society.