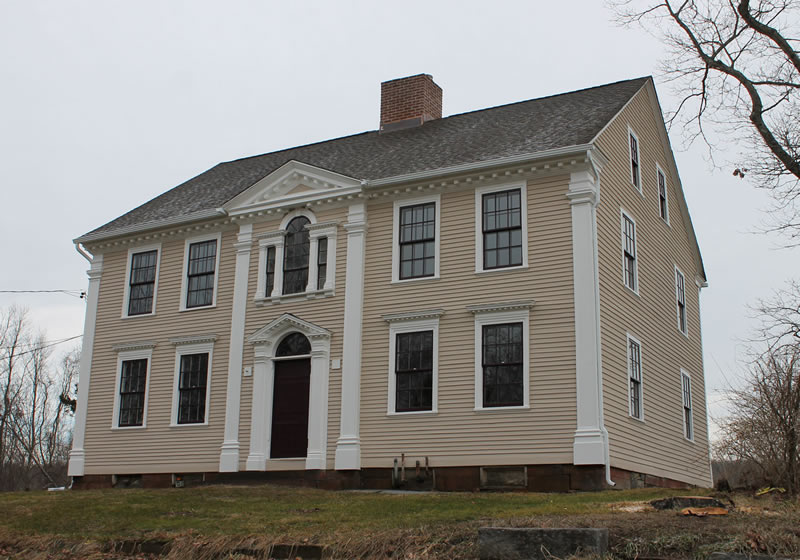 The Peters House, at the entrance to Burnt Hill Park, is slowly returning to its early magnificent appearance. All who have passed 150 East Street since late last summer have noticed the exterior restoration and new paint on the house. The sign, posted in the front yard until recently, noted that the work had been supported by a State of Connecticut STEAP (Small Town Economic Assistance Program) Grant which had been allocated for the Town of Hebron in 2009. That grant plus another provided by the 1772 Foundation has paid for all work done on the house to date.
To continue the restoration, the Town of Hebron is working with the Historic Properties Commission to coordinate the volunteer phase on the interior of the house. There will be tasks appropriate for individuals at all levels of expertise. The first jobs available will be the removal of kitchen cabinets, the demolition of some modern paneling as well as added wall partitions, and the removal of tacks & nails from added floor coverings. Once those jobs are completed, we will have the house back to its original skin.
Following the demolition stage, volunteers will be offered the chance to spackle, paint, restore flooring, complete wainscot, re-point masonry, and probably work on exterior yard and garden beautification. For more experienced craftspeople, there will be the opportunity to construct a staircase, to replace boards and molding around fireplaces, and to make other structural alterations.
As work continues, it is our hope that individuals from other professional areas (heating/air conditioning, plumbing, electrical work, etc.) will group together to offer their services to the Historic Peters House.
The goal of these efforts is to return the appearance of the main house to its original ca. 1790 appearance, and the ell to about 1750. It is the plan of the Board of Selectmen to use the Peters House for historical exhibit and educational purposes as well as for community meetings and other functions.
Once individuals have shown interest in being a part of this volunteer opportunity, dates will be set for Peters House Walk-Thru and Training Sessions. At this time, volunteer tasks will be further identified, procedures for scheduling and sign-up will be explained, and volunteers will be asked to complete a form providing name, address, phone #, e-mail address, job interest and capability, work availability (days & times), etc.
To sign up to be a volunteer, just click on "Contact Us", and give us contact information, what type of work you'd like to do, and when you can work.