Connecticut Troops at Gettysburg Subject of May Historical Society Meeting
Hebron Historical Society is pleased to announce that Connie Satton will be presenting her original research on Connecticut troops who engaged rebel troops for three days at the fierce and bloody Battle at Gettysburg.
On July 1, 1863, the 17th Connecticut Volunteer Infantry Regiment faced screaming Georgian infantry on a knoll outside the southern Pennsylvania town. On July 2, the tiny 27th Connecticut lost about half its number in a field of wheat; and on July 3, the 14th Connecticut and 2nd Connecticut Light Battery took part in the great slaughter that ended General George E. Pickett's charge and General Robert E. Lee's hopes of a tide-turning Confederate victory.
Years ago, Satton said she was standing on Little Round Top, one of Gettysburg's best-known sites, "and I guess I got bit by the Civil War bug." For the past 17 years, the retired Rockville General Hospital employee has attended lectures, field tours and numerous programs on Civil War history that focuses on Gettysburg.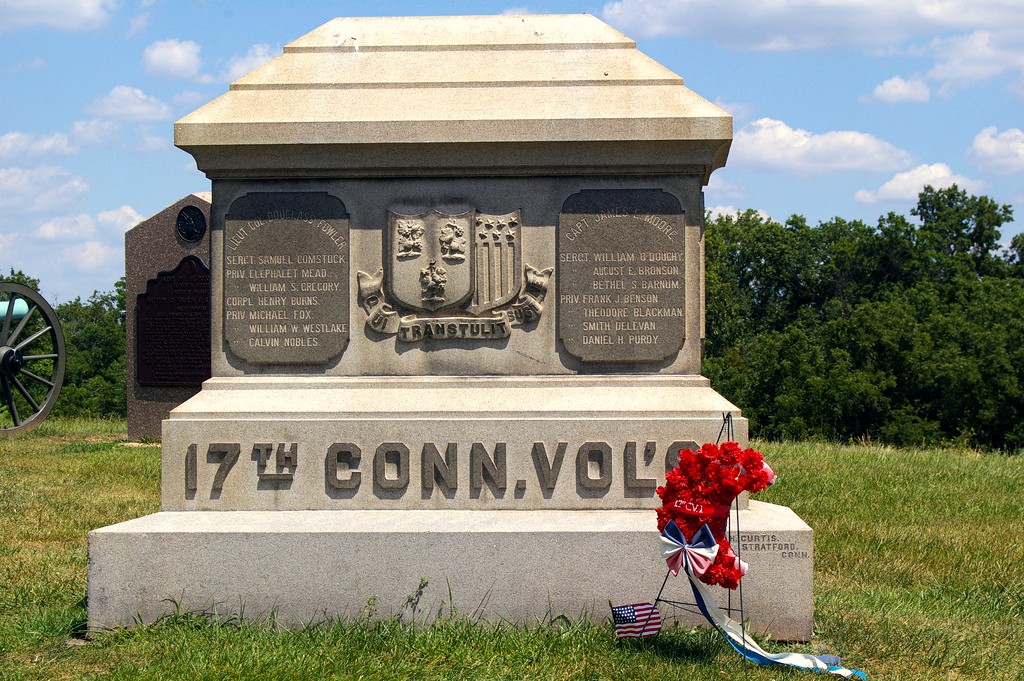 Members of Connecticut's 17th Regiment met the challenge of the rebel troops during the Battle of Barlow's Knoll.Members of Connecticut's 17th Regiment met the challenge of the rebel troops during the Battle of Barlow's Knoll.
Satton's presentation includes Civil War music and modern photographs of the battlefield sites where Connecticut troops fought. Past President of the Vernon Historical Society, she has also attended the Civil War Institute at Gettysburg College for the past 20 years. "I've walked the battlefield many times, and all slides that will be shown at the meeting were taken by me," she said.
Those include:
* Barlow's Knoll, where Lt. Col. Douglas Fowler, commanding the 17th Connecticut, ordered his men to charge the enemy.
* Wheatfield, where the tiny 27th Connecticut engaged in a fight of incredible savagery on July 2. The regiment, decimated by the capture of several companies at Chancellorsville, went into the fight with 75 soldiers but emerged with only 37.
*Cemetery Ridge, where Connecticut infantry and artillery were among Union troops who met approximately 12,000 Confederate infantrymen marching towards them in the battle's culminating bloodbath, Pickett's Charge. Facing its first big fight, the Connecticut Light, 2nd Battery, led by Captain John W. Sterling, pitched their shot at the advancing rebels from four rifled cannon.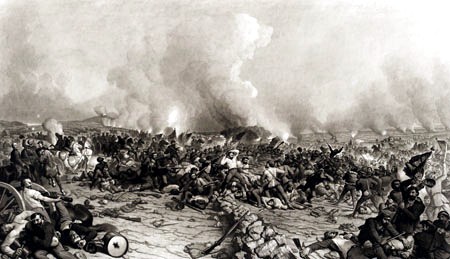 Connecticut troops suffered large loses at Pickett's charge. Connie Satton will present her original research on the importance of our state's troops during the Civil War at Hebron Historical Society's May 24 meeting.
Satton quoted St. Clair Mulholland of Pennsylvania regarding the role of Connecticut troops at Pickett's Charge. "Sterling's men made superb firing, their shells bursting in the faces of the advancing host. One of the lieutenants of the battery, a very tall long legged fellow, could not restrain his delight at seeing the excellent work that his battery was doing, and when he would see a good shot and his shells bursting right in the ranks of the Confederates, the arms and legs flying, he would leap up, crack his heels together, and give a great scream of joy. Never was there such a moment of joy and happiness in the ranks of command."
Sterling survived the war, passing away in 1881. He is buried at the famous Mountain Grove Cemetery and Mausoleum in Bridgeport, Connecticut.
The slide show and lecture begins at 7:30 p.m. on Thursday, May 24 at Old Town Hall, 24 Main Street. Old Town Hall is located just east of the intersection of Routes 85 and 66. The public is cordially invited to attend. Light refreshments will be served; donations are gratefully accepted.
For more information, call Program Chair Louise Casarella at 860-643-9288.