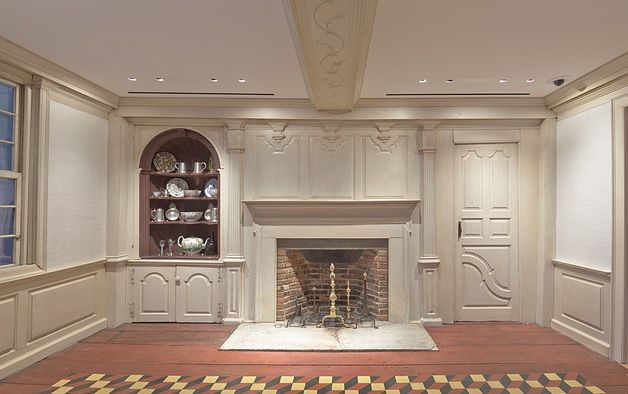 "The Gilead Room" as it now appears in the Yale University Art Gallery
A Gilead Room at Yale
By Mary Ann Foote
Since the Yale University Art Gallery's reopening on 12/12/12, a "Gilead Room" has been included as part of the newly expanded and renovated galleries. How did a room from Gilead find its way to Yale? When did it "go to Yale"? How old is it? What is its story?
Room Discovery and Purchase
In about 1930, the CT Society of Colonial Dames of America were surveying still extant 17th to early 19th century structures. When Colonial Dame member, Mrs. Holcombe, saw the parlor of the Gilead house, she shared her find with J. Frederick Kelly, a New Haven architect. Following Mr. Kelly's visit to the house, he immediately contacted Everett Meeks, the dean of Yale's School of Fine Arts. Mr. Meeks then wrote to Mr. Francis Garvan, a generous supporter of fine arts, about "the finest Connecticut room I know of." Mr. Garvan accepted all appraisals of merit regarding the room; negotiations were held with J. Kellogg and Ethel White; and for $5,000.00 the woodwork from the parlor now belonged to Yale. More than one recent owner of the Gilead house has offered to buy back the elements of the parlor!
J. Frederick Kelly and his brother Henry immediately initiated the plans for removing the woodwork. Extensive drawings were made of every elevation in the room. A numbering system was placed on each piece of wood with detailed direction as to how it fit with its neighbor. Photographs were taken while the room was intact, and those pictures also showed the numbers on each piece. The reader will note that the Gilead Room today exactly matches its photograph taken prior to dismantling.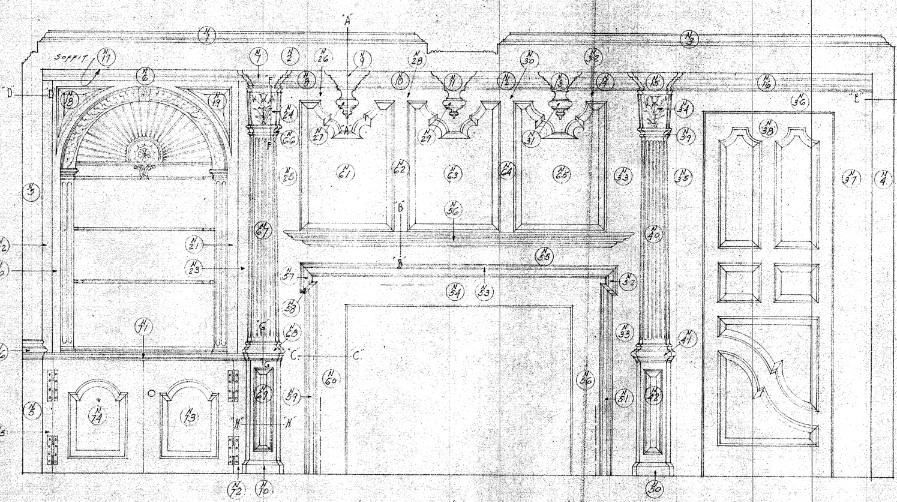 Elevation of North Wall as drawn and identified by J. Frederick Kelly in 1930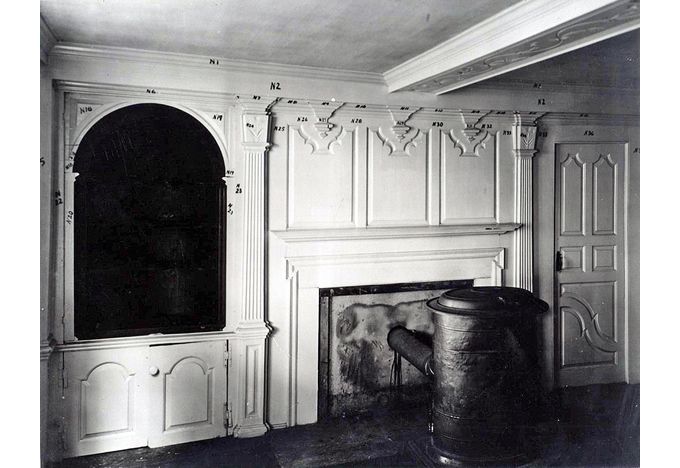 1930 photo of North Wall, marked for dismantling and easy reassembling, by New Haven architect, J. Frederick Kelly
The plan was for Yale to immediately install the room in their Department of Fine Arts gallery. It would have been quite simple to dismantle and move the room, and then re-install it at Yale with the Kelly brothers' instructions. However, the fiscal difficulties of that era prevented the plan from moving forward. The woodwork was, instead, put into storage where it was out of sight for over 75 years. When Hebron's Olive (White) Doubleday was told of the plan for the conservation and reinstallation of her childhood parlor, she simply said, "It's about time!" Unfortunately, Olive is no longer here to see it, but she was very excited to know it was finally going to happen.
Location of House in Gilead
Where in Gilead was this room located? While driving through the village, have you ever noticed an unusually proportioned old house? It is very tall, has 3 floors, yet the main portion is extremely shallow from front to back. As soon as you see the picture of the house, you'll say, "I know that house; I always look at it. I wonder how old it is?" The house is located south of Meetinghouse Road on Gilead Street, Route 85, and can be seen by either looking across a cornfield or from Gilead Street. The different views will show the uncommon shape.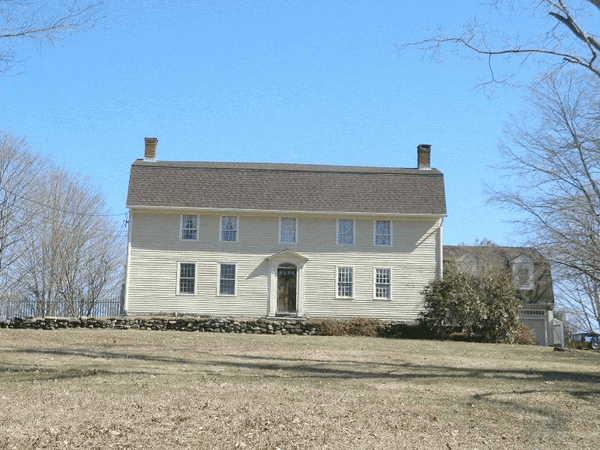 The parlor was removed from the lower left room at 650 Gilead Street
Credit: Lara Bordick, 2008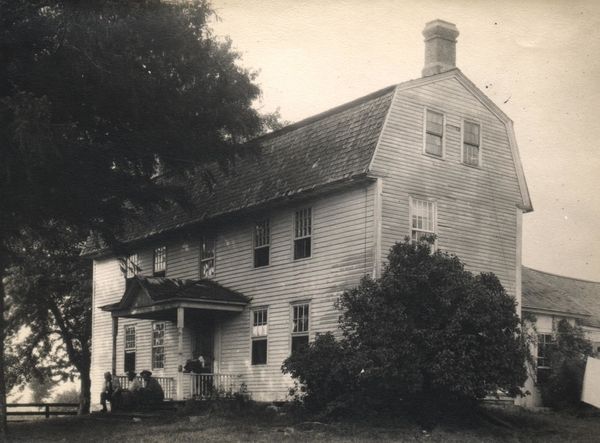 The house as it looked in 1930, photo by J. Frederick Kelly
Who Built the House?
The house has been referred to as the Youngs' house, the Ellis Luther house, the Rowley house, but this writer suggests it could also be called the "Curtice House". Between land records and probate distributions, researching a property history is often confusing. With a lack of complete records, first resolving the age of a structure through modern methods could help determine the ownership at time of home construction. Let's follow the primitive path.
Joshua, son of Uncas, Sachem of the Mohegan Indians dictated his will in 1676, and left land rights to men from the Hartford, Saybrook and Windsor settlements. Taking advantage of this land, a man named Joseph Youngs from Southold, Long Island in 1702 purchased a "1000 acre right" from John Parker, one of the Saybrook Legatees. A bit later, the land right was converted to "solid ground", and Joseph Youngs became one of Hebron's earliest settlers. His "100 acer home lott" was laid out in Gilead on May 5th, 1713, and the property record for Lot # 52 can be found in volume 1 of the Hebron Land Records.
The 1744 map of Hebron shows two homes labeled "Youngs" on Gilead Street, and two more on Wall Street. None of these houses, however, are this "Gilead House" as it wasn't yet built. Between the years of acquiring the land to the date of the map, Hebron's Vital Records inform us of Joseph and Margret Youngs' family. Sons Ephraim and Eliphalet were married in 1733 and 1734, respectively. Other children were Lemuell, Ebenezer, Joseph, Jr., Benaiah and Margrit. Joseph Youngs' wife, Margret, died in 1758, and Joseph himself in 1768. We can guess that various family members lived in those marked houses during the intervening years?
In 1750 Joseph Youngs divided his Gilead Street property between his sons, Eliphalet and Ephraim. Between the two properties was land Joseph Youngs had previously given to the Society of Gilead for a Meetinghouse. Ephraim was the son with property to the south, and therefore it was his descendants and their relatives who would have built the Gilead House. Although many names are similar, and therefore very confusing, stay with me while we follow the early property history
Ephraim, who died in 1761, and Hannah (Rollo) Youngs had two children, Ephraim, Jr. and Hannah. Daughter Hannah married Abijah Rowley in 1751, but she had already died by 1752. Abijah then married Hannah (Curtice) in 1755. Ephraim, Jr. married Hannah's sister, Elizabeth (Curtice) in 1757, but Elizabeth was widowed in 1763. Neither Ephraim, Jr. nor his sister Hannah had any offspring, so the property interest moved in the direction of the Curtice connection.
In 1768, two months after the death of family patriarch, Joseph Youngs, Widow Elizabeth (Curtice) Youngs sold a portion of her property to her brother-in-law, Abijah Rowley. Abijah served in the Revolutionary War and died in Vermont in 1776. Abijah's widow, Hannah (Curtice) sold 40 acres of their property in 1782 to her brother, John Curtice. [Widow Elizabeth died in 1786; Widow Hannah died in 1812.] In 1812 John Curtice sold 16 acres, including house and barn, to Rev. Nathan Gillet, the pastor of the Gilead Church. It was at this time that the property left the Curtice family.
To provide more light on the subject of age, the Yale Conservation staff ran tests, called dendrochronology, on the woodwork. This is a scientific method of dating based on the analysis of patterns of a tree's growth rings. Those tests showed that the timber had been felled in 1770. The wood would then have gone through a natural air-drying process before it could be utilized. However long the drying took is when the house was built -- or at least when the architectural elements were added to the parlor, if testing wasn't done on the entire building.
Local lore holds that Ellis Luther built the house. He did own a woodlot for about 10 years; and, when sold, it included a "3 saws mill". Even more interestingly, however, is that Ellis Luther in 1780 married a Sybil Post whose mother just happened to be Deborah (Curtice), sister of Elizabeth, Hannah and John! If Ellis Luther did build the house, it probably wasn't until around 1775 since he was born in 1755. If we conjecture a bit, we can surmise that Ellis met Sybil while building the house and married her shortly thereafter!
So--, who built the house and when? Now it's up to you to continue the research!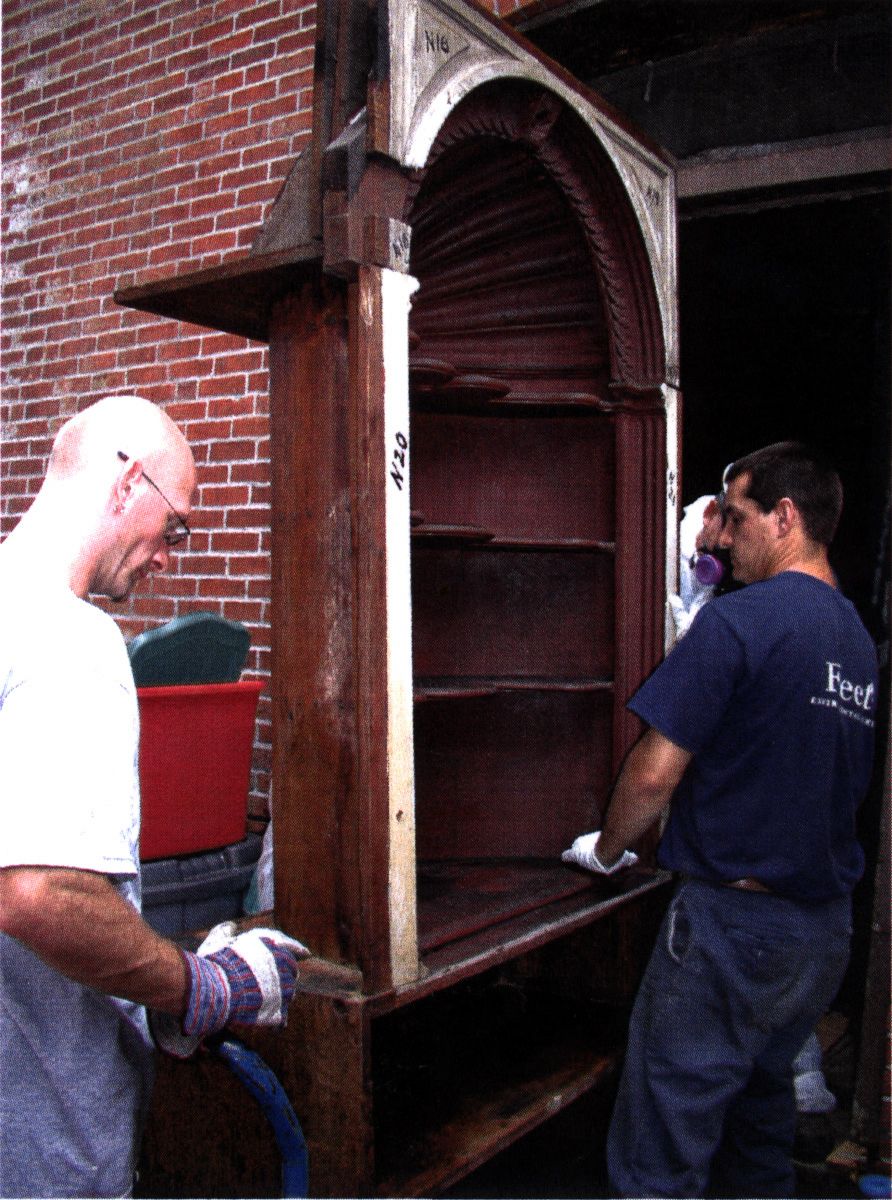 Corner Cupboard from Gilead Parlor finally out of Storage
Conservation and Reinstallation of Parlor
Back to the ca. 1770 Gilead Room: The room was packed up about 80 years ago, moved to New Haven, and then sat in various, sometimes unsavory storage locations for all those years. If one thinks that the Yale restoration experts simply followed J. Frederick Kelly's marked photographs and drawings, reassembled the room, and said, "voila, it's ready to exhibit," one is mistaken.
Just in the last five years have the components of the parlor found their way back into daylight. Following their removal from storage, the elements were sealed in airless bags so that any insidious bugs, which may have penetrated the wood, would be eliminated. The architectural elements were then cleaned, had paint analyses done, as well as additional research and conservation work. Surprisingly, after all those years in various locations, very few pieces were lost and in need of replication.
Once all conservation work had been completed, it was time to re-assemble the room. Luckily, Yale has a large preservation & conservation facility which provides plenty of space for laying out the components. Following the 1930 J. Frederick and Henry Kelly drawings, photographs and markings, the separate elements were reassembled. The woodwork included a mantel, doorways, wainscoting, the corner cabinet, windows, and trim.
The Gilead room's most spectacular and sought after pieces include the paneled chimney wall, the carved summer beam, and the corner cupboard. To see a time-lapse video of the parlor being reassembled by YUAG conservators, click to watch.
Gilead Room Being Reassembled in YUAG Preservation/Conservation Facility
To see the Gilead Room itself, visit the Yale University Art Gallery at 1111 Chapel Street (at York Street), New Haven. [Unless otherwise noted, all graphics are credited to the American Decorative Arts Department, YUAG.]
Hebron's loss was the Yale University Art Gallery's gain, even if it took Yale an awful long time to realize it.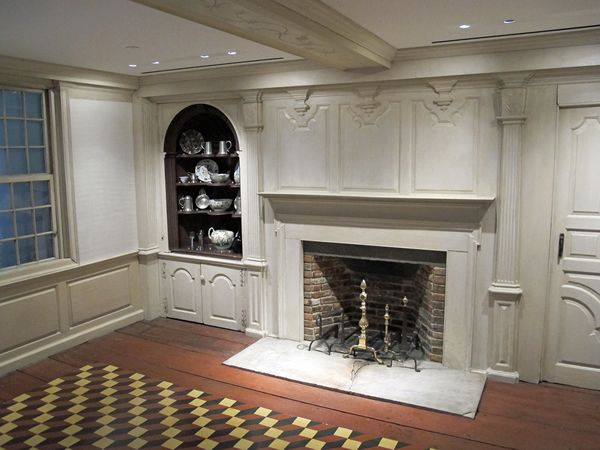 Architectural Detail Photos
Click on each photo to enlarge.
Photos courtesy of Carolyn Aubin